Situated at a prime location in Bãi Trường, Phú Quốc island, Regent Residences Phu Quoc is a hot spot attracting many high-end domestic and foreign real estate investors.
Sky Villas at Regent Residences Phu Quoc is considered a typical example of the "upstream" real estate model, scoring absolutely with its 360-degree panoramic views.
Million-dollar vision enhances quality of life
Living in an open space in harmony with nature helps improve the quality of life of the people. Therefore, with the crowded urban areas, there is not much natural green space. Therefore, the vision of an apartment becomes especially important to provide a comfortable living space and freedom to the owner. The vision is equally important when it comes to resort property to determine its attractiveness as well as the value of the project.
The beauty and tranquillity of Viet Nam's beaches have always drawn both domestic and foreign tourists for vacation. More than 75 per cent of foreign visitors choose sea tourism in Việt Nam, contributing to 71.5 per cent of the total travel revenue of the country. Therefore, a luxury resort property offering panoramic sea views is always the most expensive option, with the likelihood of prices increasing several times. However, this kind of property is extremely scarce due to limited land fund.
In Việt Nam, panoramic views are mostly concentrated to penthouses in towers, where the space is large and flexible enough to be built with a million-dollar vision.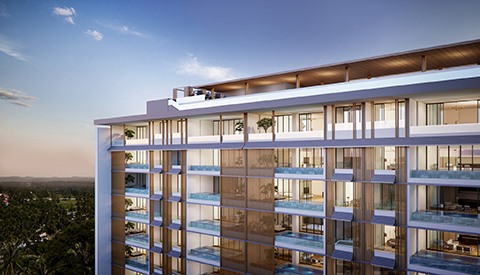 Regent Residences Phu Quoc offers 360-degree panoramic views.
However, at Sky Villas at Regent Residences Phu Quoc, all 42 villas offer panoramic views and extend to a beautiful natural area. The vision of Sky Villas ensures living in harmony with nature and makes ample use of sunlight and sea breeze.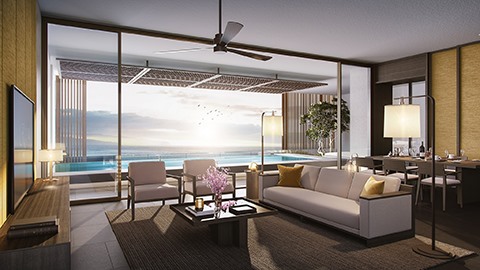 A banquet at the beachfront mansion is a worthwhile experience.
Organising parties for friends and family at Sky Villas is a favourite activity of its upper-class residents. Watching the blue of the sea below and the green of the grass at the resort from high above, while enjoying delicious food, will offer guests a special experience.
Sky Villas at Regent Residences Phu Quoc: an ideal choice for investment
In the past few years, the segment of high-end customers has become increasingly "hard" as the standards set for resort real estate are becoming stricter. Investors are no longer just interested in the interior décor and amenities; they are looking for properties that assert their personality and values. The elements of living value and individual style and freedom and the privileges that only a few people possess are becoming more popular with the elite. Therefore, Sky Villas will be the potential model for this group of customers when it perfectly matches the personality and value of life they are looking for, although Regent Residences Phu Quoc is a serious contender.
Besides the favourable location at Bãi Trường, Phú Quốc island, Sky Villas apartments at Regent Residences Phu Quoc also offer absolute privacy. The infinity pools in each apartment directlyopen to the sea.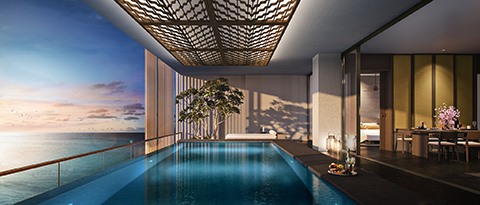 The large swimming pool offer absolute privacy.
Sky Villas understand the need for ample living space, luxury and privacy. Therefore, the density of apartments has been kept minimal, with each floor having only six units.
Regent Residences Phu Quoc also has a separate lock-off system, allowing the owner to separate the two bedrooms of the Sky Villas, creating a separate home for the owner, while optimising the rental of the rest.
In April 2018, InterContinental Hotels Group (IHG) and Formosa International Hotels Corporation completed the acquisition of a 51 per cent stake in Regent Hotels & Resorts for US$39 million. IHG also reached an agreement to purchase the remaining 49 per cent shares after 2026. The deal affirms IHG's status as a global resort and asserts the business guarantee of the Regent brand.
Steven Pan, president of Formosa International Hotels Corporation, said, "IHG and our Group share the same brand vision, and IHG has the potential to make our ambitions come true. IHG has a deep understanding of how to maintain and protect core values ​​that make Regent a unique brand, while ensuring that Regent can thrive and grow on a global scale."