Sky Villas is a familiar real estate concept in developed countries and is considered one of the most attractive types of real estate for investors.
Recently, in Việt Nam, Regent Residences Phu Quoc pioneered this model with its six-star project. With the project's design highlights, BIM Group believes Sky Villas will be a high-end property model for investors in Việt Nam.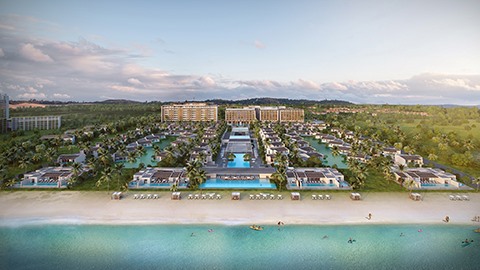 Sky Villas: Identity of the high-class
Jade Signature, a new architectural symbol on the "beach for millionaires," Sunny Isles Beach (Florida, USA), was almost owned by the super rich when it was inaugurated in March. Recently, John Finnegan, former chairman of Chubb Corp., the world's largest insurance company, spent US$7.8 million to own a Sky Villa from Jade Signature. Ian C. Read, CEO of Pfizer, one of the world's largest pharmaceutical companies, has reportedly signed a $13-million deal for a Sky Villas unit.
This shows that Sky Villas is no longer a familiar concept associated with the wealthy in only the world's largest commercial and economic centres, such as Manhattan (New York). Today, Sky Villas has become the favourite target of the world's super rich.
In Việt Nam, Sky Villas is a new concept and is often confused with a penthouse. Both models have in common the perfect combination of convenience and safety in the form of high-rise apartments with luxurious amenities.
A penthouse is a single large, luxurious apartment located on the top floor of a building. It shares space and facilities with other types of lower-level apartments.
There are also some misconceptions over the concept of Sky Villas compared with Condotel—luxury apartments that operate as hotel rooms. A condotel has a high level of homogeneity and offers an enclosed space, including kitchens and dining rooms next to a holiday space.
Sky Villas, on the other hand, provide an exclusive private property with a private swimming pool on each floor.
The greatest difference between Sky Villas and other models of real estate is the level of isolation and luxury. Besides the advantages of traditional villas and luxury apartments, Sky Villas can cover an entire neighbourhood, offering limited availability and complete privacy in addition to beautiful panoramic views, among other things.
At Sky Villas, everyone has access to exclusive luxury facilities on site, something that a penthouse or condotel does not offer. This helps to create a sense of harmony in the overall design while ensuring the privacy of each apartment.
The privacy features of Sky Villas are enhanced compared with other types of real estate models, which have a low density of apartments, limited availability or private paths.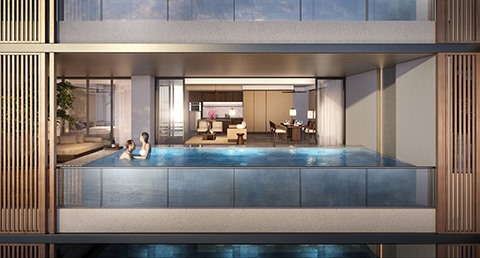 Sky Villas by the sea: Private spaces for the upper class
Privacy is considered important at luxury vacation resorts. The elite are never afraid of spending a lot of money to hide away in a private oasis. Today, Regent is known as the "land of hiding" among some of the world's A-listers, including Alicia Keys, Cindy Crawford and 50 Cent, because Regent makes them enjoy the feeling of being lost in an oasis on their own.
In Việt Nam, Sky Villas Regent Residences Phu Quoc will surely meet the needs of the most demanding guests. It will be the perfect private place to get away from the noise of the city. The 42 Sky Villas in this project will be available to a small number of owners who are not only wealthy investors but also know how to relax.
Vision privileges, one of the core values ​​of Sky Villas, are enhanced in the beautiful coastal location of Bãi Trường. Enjoy the cool water at the large swimming pool and watch the sunset with panoramic sea views from high above: this is a privilege reserved for only a few high-end guests.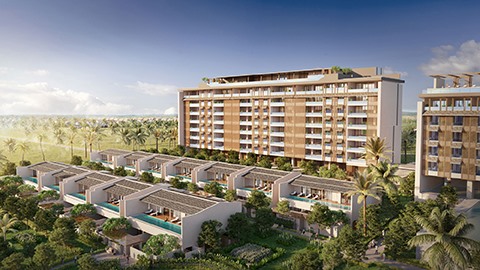 Sky Villas – the choice of new clientele
Over the past few years, many "7x" and "8x" people have been named on lists of the richest people in Asian countries in general and Việt Nam in particular. The property market witnessed the rise of this new generation of customers, the millennials, in the high-end segment. This dynamic generation aspires to assert themselves and join the common movements of the world.
They typically do not hesitate to pay for properties that assert their personalities and values. Consequently, in addition to the group of experienced investors, this new generation group is also considered a potential customer of the Sky Villas model when it matches their character and values.
It is not difficult for Sky Villas to meet the demand for high-end private spaces while ensuring security and offering a means of rational investment to the younger generation. In addition, Sky Villas satisfies the desire to live close to Nature with unobstructed sea views from the terrace while enjoying the utility of the large private pool area. The owner of a Sky Villa enjoys both leisure time and a first-class service experience while still earning large profits from renting the property. Sky Villas at Regent Residences Phu Quoc also features a separate lock-off system that allows the rooms of each villa to be separated from each other, providing separate entrances for each room so that the property can be offered to multiple rental groups simultaneously. According to experts, this is a positive feature that could attract investors by creating a very flexible model for each rental exploitation plan, thus ensuring a high occupancy rate.
The project is exclusively distributed by MGV, real estate chain PQR, Eagle and WiKi, as well as HTland, Dat Phuoc An Phu and Shouse.
About BIM Group
BIM Group is a diversified multinational corporation based in Việt Nam, with a strong track record in four major sectors: Property Development and Tourism, Agriculture – Food, Commerce Services and Renewable Energy. With a reputation spanning over 20 years of development, a solid financial foundation, and nearly 4,000 employees, BIM Group is one of the rare investors in the market that is capable of meeting the rigorous and professional standards of the world's leading brands.
BIM Group has been developing many major real estate projects in Việt Nam and abroad, such as Syrena Tower Commercial Centre, Fraser Suites luxury apartments for rent in Hà Nội with over 95 per cent occupancy, Halong Marina tourist town and Royal Square – The most modern luxury hotel complex in Vientiane – Laos (managed by Crowne Plaza InterContinental Hotels Group), as well as Phu Quoc Marina complex—a resort and entertainment complex with a total area of ​​155ha, InterContinental Phu Quoc Long Beach Resort & Residences (managed by InterContinental Hotels & Resorts) and, most recently, Regent Residences Phu Quoc (managed by InterContinental Hotels Group under the brand name Regent Hotels & Resorts).
About InterContinental Hotels Group
As a global luxury hotel corporation, the InterContinental Hotels Group is known as the "prince" of resorts. For 70 years, operating with 5,300 hotels in nearly 100 countries and territories, the InterContinental Hotels Group has maintained its status as a global luxury resort. The group is also one of the strictest resort managers and operators in the world, a brand whose professionalism and standards are the norm.
It currently owns 13 major brands, including InterContinental Hotels & Resorts, Kimpton Hotels & Restaurants, HUALUXE Hotels and Resorts and Crowne Plaza Hotels & Resorts, as well as Hotel Indigo, EVEN Hotels, Holiday Inn and Holiday Inn Express, in addition to Holiday Inn Club Vacations, Holiday Inn Resort, avid™ hotels, Staybridge Suites and Candlewood Suites.
With the milestone of InterContinental Hotels Group and Formosa International Hotels Corporation completing a 51 per cent acquisition of Regent Hotels & Resorts, Regent will become the top brand under the InterContinental Hotels Group umbrella.