Recently, InterContinental Hotels Group (IHG) officially announced the completion of a 51per cent acquisition of Regent Hotels & Resort, making Regent the most advanced brand in the IHG system.
This deal is a launch pad for Regent Residences Phu Quoc, owned by BIM Group.
After acquiring 51 per cent stake, IHG has reached an agreement with the concerned parties to purchase the remaining 49 per cent shares after 2026. This is considered a milestone for Regent to become the highest brand in the IHG system, which is still known as the "king" of resorts.
As the first project under the Regent brand in Việt Nam, the deal has transformed and promoted the position of Regent Residences Phu Quoc to another level altogether.
Prior to this significant deal, Regent Residences Phu Quoc was known as a luxury project with a well-known management unit, but was not widely known to the masses. The core values of Regent Residences Phu Quoc are set to convey the meticulous essence and uniqueness of architecture, service and operating system rather than just the well-known reputation of the brand. As soon as IHG acquired a majority stake in Regent Hotels & Resorts, it became a symbol of luxury resort overnight.
The combination of 50 years of quintessential development of the Regent brand and the remarkable reputation gained from over 70 years of IHG experience has helped real estate resorts to witness a unique brand. Regent Residences Phu Quoc is the latest proof.
The project is owned by BIM Group, one of the co-investors with many international management units in Việt Nam. With the acquisition of Regent Hotels & Resorts by IHG, this will be the third project to continue the long-term strategic partnership between BIM Group and IHG.
Previous projects include Crowne Plaza Vientiane (which was launched in April 2017) and InterContinental Phu Quoc Long Beach Resort (which is in the final stage). Another upcoming project is the popular hotel and serviced apartment category under the most popular global resort brand—Holiday Inn Hotels & Suites in Laos. In addition to IHG, the portfolio of management partnerships with the BIM Group currently includes leading names, such as Frasers Hospitality, The Ascott Limited (Citadines brand) and Hyatt Corporation (brand Park Hyatt).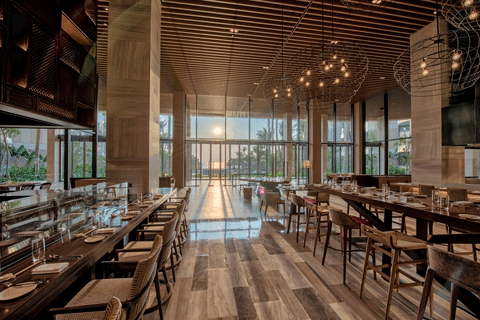 With the strategy of "standing on the shoulders of giants," BIM Group carefully selects among the management units. It works only with truly professional units and has a common voice with BIM. The selection takes place before the architectural design begins, so all projects are subject to stringent standards and carry the distinctive colour of the management brand. This ensures that all BIM Group projects are developed and professional, giving the group a competitive edge in the market.
IHG's acquisition of Regent means that both Regent Residences Phu Quoc and InterContinental Phu Quoc Long Beach Resort, which are adjacent to each other, will become the members of one family, with IHG being the co-owner and mutual developer. This is a unique feature that complements both projects, aiming to serve a wider range of customers and maximising room utilisation. Moreover, with the completion of the Phu Quoc Marina tourism complex, besides the high-class entertainment projects, the value of these two resorts will be increasingly enhanced.
Lê Minh Dũng, deputy general director of BIM Group, said, "BIM Group is lucky that Regent Residences Phu Quoc became the first child under the management of IHG. IHG's management of a BIM Group project is an affirmation of the prestige and outstanding quality of the projects invested by BIM Group, which is another step in the strategic partnership between the two corporations."
To put in a local touch, the logo of Regent Residences Phu Quoc is inspired by a multicoloured opal gemstone that can change colours under different lighting, symbolising hope, faith and achievement. Opal gemstones are often known for their ability to induce intuition so sensitive that it gives inspiration. Thus, like a raw opal under the glittering sun or in the blue sea, Regent Residences Phu Quoc awakens different subtle sensations in each customer, guided by their own emotions.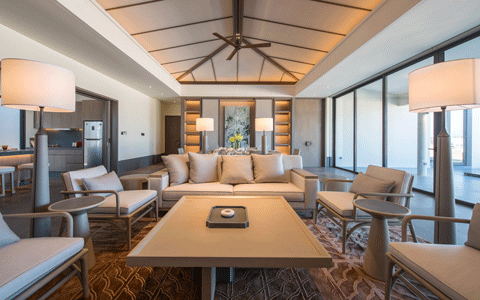 Regent Residences Phu Quoc breaks the boundaries of super-luxury resort and is set apart with a refreshing new look. Familiar Vietnamese architecture is visible in Regent Residences Phu Quoc, but it also connects the traditional style with modern minimalism, comfort and spaciousness. The unique and luxurious six-star, deluxe-style resort offers diversified villas for accommodation, with a lock-off system separating the rooms from the private pools. Each villa has at least twoand maximum six swimming pools.
With a total area of 15ha, Regent Residences Phu Quoc includes 76 luxurious sea villas and 42 sky villas as well as 120 hotel rooms with many luxury amenities, such as rooftop bar, sky bar, gym, Michelin star restaurant, beach club and spa.
Regent Residences Phu Quoc under IHG is indeed a precious gemstone and sets new luxury resort standards in Phu Quoc.